Whether you're a business owner  or homeowner, or both, a rich and beautiful lawn can enhance the way you feel about your property and project a positive image to visitors.  Our lawn care service can help you achieve a lawn that will make you proud.
Our standard mowing plan includes edging at walkways and flowerbeds, string trimming, and blowing clippings from walkways.  We also routinely trim shrubs as an included part of our service.  And we watch for any problems that may be developing and notify you if action is indicated.
Optional Services
Leaf Removal:

 Spring and fall.
Fertilization:  A year-round fertilizer program ensures your grass is well nourished.  We'll tailor the fertilizing schedule to accommodate your specific needs.
Irrigation:  Save money on water bills and improve efficiency in getting needed irrigation to your lawn by having us tune up or repair your system.

Rye grass overseed

:   If you like the rich green look year around, we may be able to provide a rye over-seeding.  Rye thrives in cool Texas winters.
Aeration:  As a part of lawn maintenance, you may consider periodic core aeration.  Aeration helps maintain a greener, healthier lawn and may reduce the expense of watering, by:
Reducing the compaction of the soil

Improving drainage, reducing irrigation runoff

Alleviate drought damage

Limiting  thatch

Permitting air, water, and nutrients to directly reach the grass roots' system.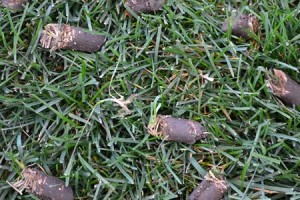 Core aeration uses a machine to pull little plugs of soil from the yard, allowing your lawn to breathe.